You may have noticed that all of IDEAL's air purifiers have an ECARF seal on their product pages. We're extremely proud to be able to place this certified, allergy-friendly 'stamp' of approval on our high-performance products.
What Does ECARF Mean?
The European Centre for Allergy Research Foundation, or ECARF, ensures that people with allergies receive the best possible guidance in everyday matters and treatment options. That means the products ECARF certifies have been fully adapted to the needs of allergy sufferers.
An independent advisory panel of 15 leading international scientists and technicians developed the criteria ECARF uses to evaluate different product groups. They include threshold values and exclusion criteria that make an allergic reaction very unlikely. The criteria are regularly updated to reflect the latest scientific findings. A product receives the Seal when it can be proved through audits or studies that the criteria have been fulfilled.
ECARF Seal of Quality
Did you know 30% of all Europeans suffer from at least one allergy? That's why it's especially important to us to offer high-performance air purifiers. So, what does it mean to be an ECARF certified air purifier? According to ECARF, "Air purifiers can remove allergens from the air indoors to a significant degree so that the symptoms experienced by people with hay fever or allergic asthma can be noticeably alleviated. The European Centre for Allergy Research Foundation (ECARF) certifies allergy-friendly air purifiers that are able to achieve a measurable improvement in air quality for the given room size through normal everyday use. The Criteria for allergy-friendly air purifiers underlie the assumption that less exposure to allergens is generally beneficial and depicts the currently highest technical standards.
The ECARF Seal of Quality "certifies air purifiers as allergy-friendly if they are able to archive a significant reduction of airborne pollutants."
ECARF Criteria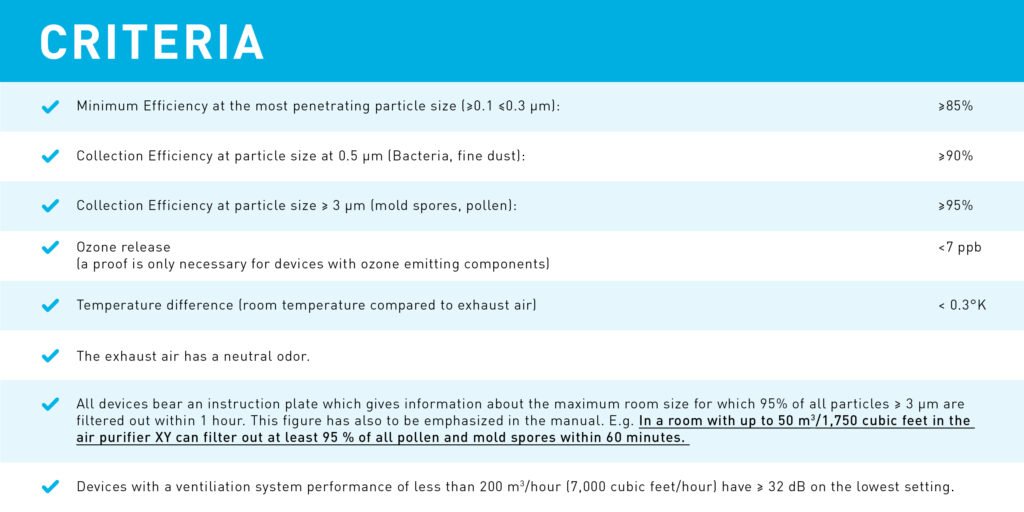 Reference: https://ecarf-siegel.org/en/criteria/air-purifiers/